MUST-HAVE TOOLKIT FOR
YOUR LIFTING ARSENAL

The Gymreapers Strength Kits have everything you need to enhance your performance and protect your body during intense workouts.
INTRODUCING THE GYMREAPERS STRENGTH KIT
Everything you need to crush your workouts and take your training to the next level. Whether you're a powerlifter, bodybuilder, or just someone looking to get stronger and more fit, this bundle is the perfect investment for your fitness journey.

A weightlifting belt provides additional support and stability to the lower back and core during heavy lifts, reducing the risk of injury. It increases intra-abdominal pressure, enhancing core stability and improving lifting technique. With better technique and support, you can lift more weight and perform more challenging exercises.
OUR STRENGTH KITS ARE AVAILABLE IN 3 WEIGHTLIFTING BELT OPTIONS
Gymreapers offers three types of weightlifting belts to suit the needs of different athletes: the 10MM lever, the 13MM lever, and the single prong belt. Each belt offers different benefits:
Ideal for athletes who perform a variety of lifts and need quick adjustments between sets.
Ideal for athletes who specialize in heavy lifts and need maximum support during their training.
Ideal for athletes who prefer a classic design and need a secure, adjustable fit during their lifts.

Knee sleeves provide valuable benefits for weightlifters during training, particularly during heavy squats and Olympic lifts. Knee sleeves can reduce the risk of knee injuries, enhance recovery time and alleviate discomfort from conditions such as tendonitis or arthritis. Additionally, knee sleeves can improve joint awareness and maintain proper form, potentially leading to improved technique and greater strength gains.
Wrist wraps can provide several benefits for weightlifters during training. They can help to improve wrist stability during heavy lifts, such as bench press or overhead press. Additionally, wrist wraps can help to enhance grip strength and reduce fatigue, allowing weightlifters to lift heavier weights for longer periods, leading to greater strength gains.
Lifting straps are a valuable tool for weightlifters looking to improve their training performance. By reducing grip fatigue and improving grip strength, lifting straps can help weightlifters -maintain their grip on heavy weights for longer periods, leading to improved strength gains. Lifting straps can also help to shift the focus of the exercise to the target muscle group, allowing weightlifters to perform more repetitions or lift heavier weights with better form.

"The kit is amazing in quality. For a first time purchase, I can genuinely say these guys stand on business and quality. You won't go wrong shopping with GymReapers! Thanks!"

"I love how much the belt give so much support during my legs workout! And the quality is so good! Thank you guys for the amazing service! I really appreciate it!

"Amazing bundle for the price really awesome and if I needed to I would totally buy again but I doubt that considering how good the quality of the equipment is!"

"I absolutely love my strength kit. The quality of all items is amazing and the durability is fantastic. I absolutely love the white camo color as well. 10/10 will recommend this to all my friends and will he a returning customer"

"Best gym gear I have own in 15+yrs of training. If you are a serious lifter that wants to keep training long term and injury free, having GYMREAPERS in your arsenal is a must!!!"

"I've been using it for a few weeks and it's made a huge difference in my workouts. The belt is very comfortable and provides great support for my lower back. It's also very easy to adjust and fits securely around my waist. Overall, I highly recommend this weight lifting belt to anyone who wants to improve their form and prevent injury while lifting weights."

"Definitely recommend, for the price the quality is amazing and I wouldn't mind if I had to pay more."

"I needed lifting straps, compression straps and also a belt so this kit was PERFECT!! The quality is amazing and definitely interests others as well!! I HIGHLY RECOMMEND THIS STRENGTH KIT FROM GYMREAPERS!!"

"The kit has high quality materials, they work well and I found that it was much easier to lift heavier and longer with the extra support. Would definitely recommend the belt and knee sleeves to anyone looking to grow their legs while protecting their joints and back."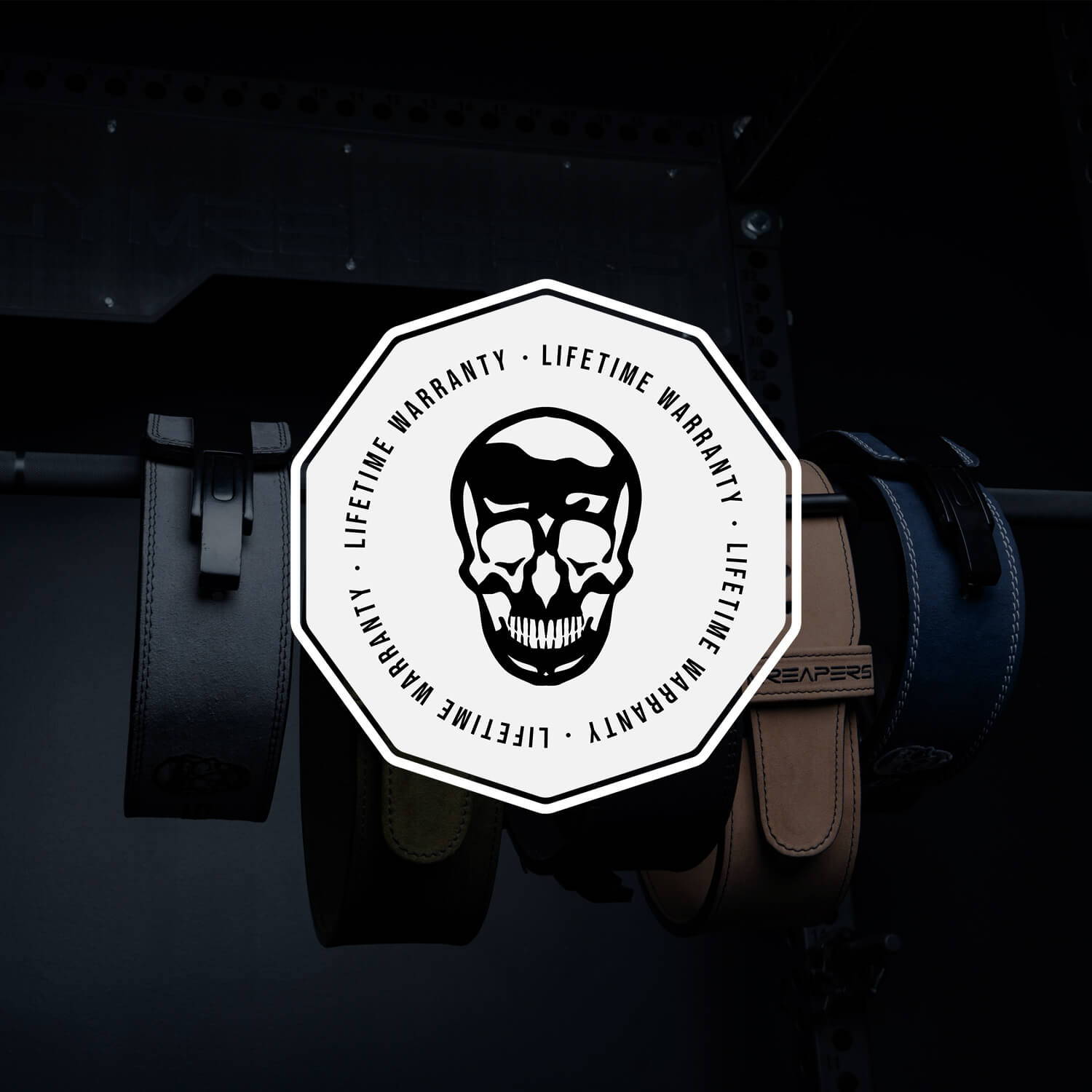 When investing in high-quality fitness equipment, it's essential to have confidence in the product's durability and longevity. Our products are specifically created to perform and outlast your most grueling training session. When you purchase gear from us, it's backed by the Gymreapers promise. We stand behind our weightlifting equipment and accessories and we're confident you'll love our premium grade products.
On the off chance that you experience a manufacturing defect on any item (such as broken stitching or other damage upon arrival), you can return it for a complete replacement for the lifetime of owning your belt.
"WE THINK THE 10MM LEVER WEIGHTLIFTING BELT FROM GYMREAPERS MAY BE TOUGH TO BEAT. THIS IS THANKS TO ITS ADJUSTABLE BUCKLE, THE LEVER THAT LOCKS THE BELT INTO PLACE, AND THE FULL LEATHER BUILD THAT PROVIDES OPTIMAL SUPPORT FOR YOUR CORE DURING POWERLIFTS. "


"THE GYMREAPERS 10MM LEVER BELT IS A GREAT OPTION FOR LIFTERS OF ANY EXPERIENCE LEVEL. WITH A PRICE POINT RIGHT IN LINE WITH OTHER QUALITY LEVER BELTS, THIS BELT IS COMFORTABLE, DURABLE, AND RELIABLE WHEN PERFORMING THE SQUAT, BENCH PRESS, DEADLIFT, AND OTHER COMPOUND MOVEMENTS."


"WITH A CRISP DESIGN, EASY-TO-USE LEVER, AND PREMIUM QUALITY LEATHER, THIS LEVER BELT HAS BEEN MET WITH GREAT REVIEWS BY CONSUMERS. ATHLETES ESPECIALLY LIKE ITS EASE OF CLOSURE AND ADJUSTABILITY WHICH ALLOWS FOR BETTER BREATH CONTROL AND BRACING. THE UNIFORM 4-INCH HEIGHT MAKES IT IDEAL FOR COMPETITORS."


13MM LEVER BELT STRENGTH KITS